Scoble's watch receives radio transmissions from space!!!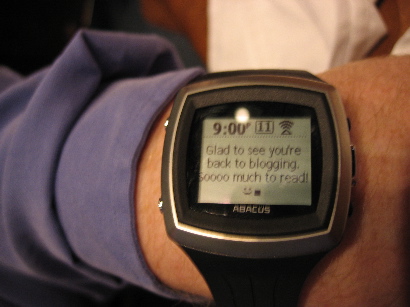 Shot of
Robert Scoble's
crazy
MSN-enabled watch
Popular posts from this blog
Celebrity blogging aggregated by Arianna Huffington. Great first post from Brad Hall and Julia Louis-Dreyfus.
I figure if I switch to a stock blogger template for a little while it will force me to do the major redesign I've been hoping to do for a long time. Sometimes you need to introduce change to get things moving. Watch for changes on the site, the feed won't change nary a bit.
Howdy sports fans - I have some non-scandalous confessions and disclosures to make. I hope this post won't get too long but when you are weeks behind in posting then there's nothing like a lightning round post like this one. First up, the geeky stuff:I accepted an offer to join
the RSS Advisory Board
two weeks ago. I know what you are asking yourselves, 'Can I get a Friends and Family discount on angle brackets and rel tags?' Some of you might find my joining the board as odd since I'm one of the core folks to start the Atom initiative. However, Atom was originally started to help foster a universal publishing protocol in addition to it's better known feed format. I'm very proud of both and see a future where RSS is improved as a result of Atom.As a decidedly pro-Atom member of the board, I should mention that I designed (and pay the bandwidth bill) for
atomenabled.org
. I also designed the Atom logo and the
associated buttons and badges
currently appearing …